Megasquirt V8 'MS3X Ultra Plug n Play Kits - WARNING Very LOW Stock - Advise to check before ordering - 0787 908 2490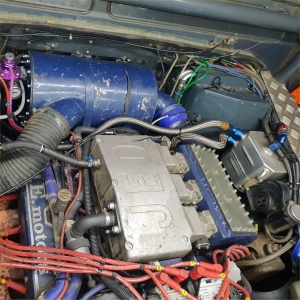 Our MS1 Kits have and are hugely popular, reliable robust and offer a superb upgrade to any fairly standard or mildly modified Rover V8. However, we have been asked for a few years now to do a seriously 'Top End' kit, for those engines that require MORE than our existing MS1 Kits can reasonably do. After much work we have exactly that - a Top of the Range 'Plug n Play Rover V8 upgrade - using the lastest most powerful Megasquirt ECU - the MS3X Model ECU Just like our existing Kits these new 'Ultra' Kits are also engine specific giving you everything ....and we mean everything you need to upgrade to this system - namely with our new 'Megasquirt V8 Ultra MS3X Kit'. This new kit is very different to our MS1 Kit. The Megasquirt V8 MS3X Kit is suited to those maybe wanting a super fast install (see below why) or, and more commonly where the engine is seriously tuned and modified, and would benefit from the greater ECU Power and Control our MS3X ECU kits will give. We used my own Land Rover 90 as a test bed - which has a 'Jon Eales' full race 5.2 Triple Plenum Rover V8 as the test bed, whilst it was 'pretty damned good' on the MS1 Kit there is absolutely no doubt whatsoever that on the Megasquirt V8 MS3X Kit it performs smoother faster cleaner and better than on MS1 With our Megasquirt V8 MS3X Ultra Plug 'n Play kits you get :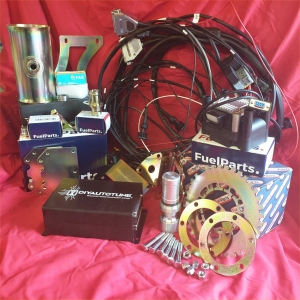 Each of the Megasquirt V8 MS3X Ultra Kits are 'Engine Specific' and contain everything required for a complete installation.
A Fully Built Professionally made Engine Harness Loom ready to fit to the engine with just 3 Wires to connect !
All Harness Plugs are fitted - Injectors PWM IAC ECU and all Coils etc, nothing to add or solder on 100% Complete
Harnesses come with their own Built in Fuse and Relay Box, with every circuit fused for added protection - complete with relays and fuses !
The MS3X ECU is configured for Semi Sequential Injection, and the ECU loaded with a suitable program to match your engine as closely as possible
Further tuning can be done either by yourself or via our tuning specialist who is hugely familiar with this setup and can tune your engine to its own personal requirements
This system uses the advanced VW / Audi 'High Output' Coil Packs with in built Coil Drivers for a faster bigger spark, and yes these are supplied !
As with all our MS1 Kits all Kits come with ALL Brackets and ALL items including AFM Tube and ALL other parts required to aid a simple and fast install
ALL Kits have both Idle Control and Cold Start as standard.
The ONLY Options are new High Specification Plug Lead Kits - Red or Blue, if you have decent leads the Standard Kit has a kit of new ends to convert your existing Leads
Rather than blind you with the Technical Specs of MS3X : - Click and have a read here if you wish to see just how powerful MS3X is
MS3X Ultra Kit - Standard
MS3X Ultra Kit + Red Plug Lead Kit
MS3X Ultra Kit + Blue Plug Lead Kit
MS3X 'Ultra' Kit - 3.5* 3.9 4.2 V Belt

Out of Stock

£1454

Out of Stock

£1503

Out of Stock

£1503
MS3X 'Ultra' Kit - 3.9 4.2 Serpentine

Out of Stock

£1498

Out of Stock

£1550

Out of Stock

£1550
MS3X 'Ultra' Kit - 4.0 4.6 Serpentine

Out of Stock

£1475

Out of Stock

£1527

Out of Stock

£1527
MS3X 'Ultra' Kit - 4.0 4.6 THOR

Out of Stock

£1644

Out of Stock

£1692

Out of Stock

£1692
* On ANY 3.5 Rover V8 being used for this conversion - you MUST change the Injectors and Top end to 'Hotwire' Vs 'Flapper' - Call us to discuss
.