Webshop is open as back from holidays !
Differential Stock will be back on Line very shortly

*** PLEASE NOTE *** *** All shipments to NON EU Countries EXCLUDE VAT and ANY Duties ***
Differentials - Options + Upgrades &amp Services Available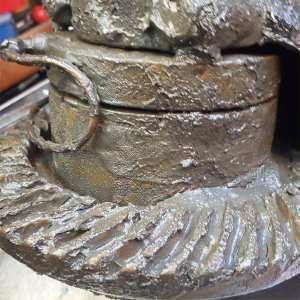 Welcome to Xcess 4x4 Specialists in Land Rover Differentials. Over the last 8 years we have done pretty much everything and anything you can think of - from a 'Simple Rebuild' to sorting out Customers Differentials in states you can barely believe - (Erm..Look Right !...and then below ...) ... Yes that is a 'Before &amp After' Ashlocker that came to us for some 'Severe Loving' ... it lived again ...and is still going strong !.
One of the things that really annoys us is when people are basically just 'Ripped Off'. Companies are sadly out there that will send you a so called 'Re-Conditioned' Differential, where there is far more "Con' in it than much 'Re'. We also have sometimes to sort out these so called Reconditioned units - Nasty chinese bearings, corners cut, pinion height and preloads wrong, poor quality pattern parts, and so on. We do the best we can with every unit and trade on reputation recommendation and referral .See our 'Customer Feedback' Page. We build all differentials using the best products and upgrades we can find, we call this our 'Ultra Build Spec'. Rather than try and explain what exactly this is, and why it is so worthwhile we have made a little video. Although this video about our 'Ultra Build' is also with one of our 'Pegged Casings', the build process is the same. So, Pegged Casing or a Standard Casing - it's the same process
watch our 'Ultra Build' Video.
Here is what goes in to one of our Rebuilds
Click for Customer Phil Talbots ARB RD56 Rebuild Video
, This was an ARB sent to us which landed for some 'Desperate Lovin'... Its a typical type of rebuild, and a typical finished unit that leaves here ready to work again. Or... for a real bit of 'Anoraky Differential Building' try this ! :
1949 Split Nose Differential Rebuild - Huge Attention to detail ?..or.. 'High on the 'Barking Mad Scale' ? Meh...
Below is some useful information explaining what you can do to improve your Land Rover Differentials. Also visit our
Differential Video Page
which is full of 'Technical Videos', designed to give clear understanding to help you make an informed decision. Careful consideration should be given as to what you choose to upgrade to, before just diving in and save you making an expensive mistake. The majority of Land Rover Differentials are called 'Long Nose' - Series LRs having 4.7:1 Ratios, the rest 3.54:1. These all have the standard exceptionally weak '2 Pin Centre', which is actually just 1 cross pin. They break very easily, there is nothing that can be done to strengthen this unit - the weakness is the centre itself, as such we do not undertake any work on '2 Pin' units. Yes, we are proud to be official Ashcroft Dealers - simple because they have the best CW&ampPs and Lockers - Namely the Ashlocker, but we repair everything ! We trade on reputation. We ONLY use the highest quality parts available, such as Timken Bearings, a raft of Genuine LR Parts, many items are Upgraded like the Crown Wheel Bolts - from the Standard Sub 8 Grade to 12.9 Grade, plus many other tweaks which we do as our "Standard Build". We only have the one build option - The best we can do.
Upgrading your Land Rover Differential Centre - What are your Options ?
'4 Pin' Centres - Chosen by 'Racers', and owners wanting a seriously tough inexpensive 'Open' Differential
LSDs, 'Limited Slip Differentials'. Mainly used in Racing - such as 4x4 'Comp Safari' or Track Days
'Auto Locker' - Differentials that lock when traction lost 'Automatically' - superseded now by 'Manual Lockers'
'Manual Switched Lockers' - 'Open Diff' or Fully Locked Diff with Drive to both axle wheels whatever the situation. The Ultimate.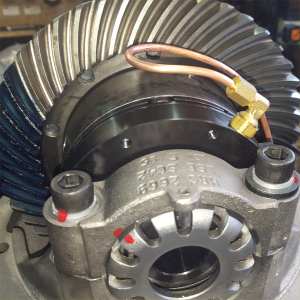 Upgrading CW&ampPs &amp Ratio Changing for improved Gearing
The vast majority of LRs use 3.54 Ratio, Series being 4.7. Changing for bigger tyres has serious bad side affects making your 4x4 'Over Geared'. 'Over Gearing' affects performance dreadfully, often 5th gear becoming next to useless. Changing CW&ampP Ratios resets this and literally 'transforms' your 4x4s performance beyond any recognition. It's that big a deal ! see here
What's Overgearing ? - Before &amp After Video
Standard CW&ampPs are quite weak and prone failure. The HD CW&ampPs in the correct ratio, not only corrects your gearing, but also gives you a far stronger unit too. Many people just change the Transfer Box Ratio, not realising that this only changes 'On Road' High Range, Low Range - 'Off Road Driving' remains unchanged !. So, which Ratio ?. We are experts on this and have designed our own
Gearing Calculator Program
It's free to use - have a play on the calculator and ring us to chat through your thoughts - we have done ratio changes so many times - and if you are thinking of a ratio change it's important you get the ratio right - 1st time . Sometimes we have good used HD CWPs in various ratios - which can save a considerable amount of money if we have them.
Upgraded Stronger Differentials - The Key Areas to Consider.
1st - Change the Centre
2nd - 'Pegging' What's Differential Pegging Video - makes a massive difference to the units strength at March 2019 527 made and 525 still working ! - we rarely see these fial
3rd - Heavy Duty Crown Wheel Pinion Sets - and the correct ratio (see 'Gearing' video)
4th - Our 'Oil Vane' Upgrade to aid lubrication
5th - If an Ashlocker - Consider our 'TabLock' Upgrade System (see Tab-Lock page for full details)
The Centre is without Doubt No 1. - Have a look at the 'A-Z of Land Rover differentials page and see the Pros and Cons of each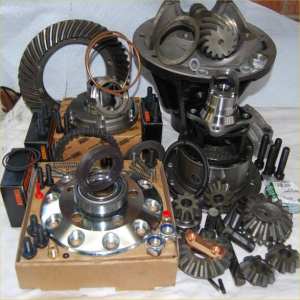 With regards to 'Pegging' we would argue a properly built and set up 'Locker' with a Megasquirt V8 'Pegged Casing' Making a Pegged Casing Video (We manufacturer our own) will be a stronger set up than the same differential 'UnPegged' with a HD CW&ampP. 'Pegging' makes that much difference !
Xcess4x4s Oil Vane upgrade
The Oil Lubrication system on Land Rover differentials is poor. On the rear Differential the nose of the unit is pointing up, and the oil pushed to the rear as its driven - so the pinion Tail bearing is a classic failure point. Out upgrade places a specially designed Oil Vane to aid the oil distribution and lubrication for a small additional cost.
Watch the video to undersatand how it works.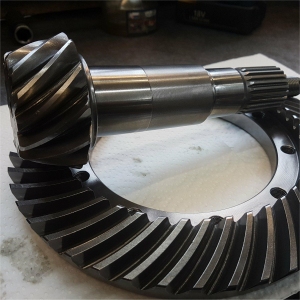 Micro Polishing &amp Re-Polishing
An additional service we offer is Micro Polishing.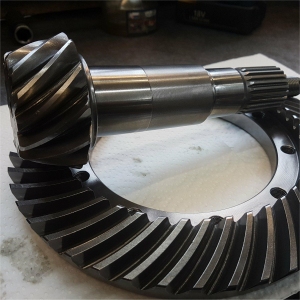 From my Time at KAM where we dabbled with it I was both aware of it and the benefits, but the costs were hoorendous, even if the CWPs looked superb. At at £210 + VAT each set over and above the basic CWP costs they proved 'Rather hard to sell' We decided to bite the bullet,thus reduce costs to an 'in house' and sensible level vs even thinking of sub contracting. The picture is a Brand New Genuine CW&P Land Rover 3.54, on its tandard finish it's finish is 'OK'. So we polished it. Whilst it looks stunning there are advatnages. We also recomend and offer this service as an option to re-polish rusty gears and other internal parts, and CWPs too !. The process cannot undo damage via pitting, but it can often reclaim parts otherwise people would say are only fit for the bin !
Here is a copy of a technical posting stolen of the internet, and no, some of this is waay over my head too !...
'Micro-Polishing of CW&Ps, gears shafts, engine & gearbox parts is the darling of Motor Sport and High End Units where money is no object. Both expensive &amp a exquistly slow and delicate process, the phyiscal size of the part or parts does not fundementally change, indeed you can leave the parts for far too long in the process, there is a "magic" point where the polishing, however long, will not improve. No damage will ensure from over Micro Polishing, just no further benefit is gained after the "Magic Point". Polishing helps remove metal stresses uniformly, with an increased bearing ratio enhancing the lubricant retention properties of the mating surface. Parts thus enhanced have a considerable less friction factor on contact points, promoting less heat and wear. Whilst polishing fails to make your gears any stronger the reduced friction = reduced stress = better durability; polished surfaces are more asperity free, with a on directional isotropic texture'
Advice from us is unbiased and free, Email or Ring - info is on the 'Contact Page'. Here at Xcess4x4 we can and do Builds, Rebuilds, Modify or Upgrade pretty much all and any Differential combinations you can have - or might want. Either taking and using what you have now, and upgrading it, or from scratch, or a mixture of both. We also try to maintain a stock of FULLY Rebuilt Second Hand Differentials (when we say 'Fully Rebuilt' we mean just that - see bottom picture on the right. We strip ALL our builds to complete component bits before we even think if starting any rebuild !) Have a read of our
Customer Feedback Page